With over 25 years in the lamination industry and 6 locations throughout the United States, we are your lamination experts for yesterday, today, and the future.
Whether your needs are small or large, local or national, there is an ESCO facility waiting to service your business.
ESCO Industries Incorporated was strated in Douglas, GA with one laminator. With hard work and dedication, ESCO has grown to include locations in Randleman, NC, Waco, TX, Hartselle, AL, Lakeland, FL, and Elkhart, IN.
Each ESCO facility is equipped with two Walco laminators that provide us with the ability to run a variety of materials, including gypsum, luaun, MDF, particle board, and hardboard, with your choice of paper or vinyl.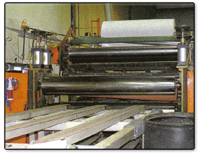 We have enjoyed an ongoing relationship with Georgia Pacific for over 25 years. This relationship assures that our company will always have competitive pricing, quality product, and ample inventory to prevent back orders. Current stock consists of 5/16, 1/2, 5/8 (regular and fire-guard) in lengths from 7' to 10'. Our ability to produce a quality edge-wrapped product has made ESCO one of the top suppliers in the mobile office market.
We also work strongly with some of the top suppliers in the luaun industry. Everything from 2.7mm to 9mm in various lengths are available for your needs and you can be assured all luaun is LFE. Our vinyl and paper are also supplied from the top companies in the industry, and to add to our company's value we have a corporate designer ready to aid you with the abundance of choices available.